ROCKET HEALTH UGANDA JOINS THE AMERICAN CHAMBER OF COMMERCE OF UGANDA.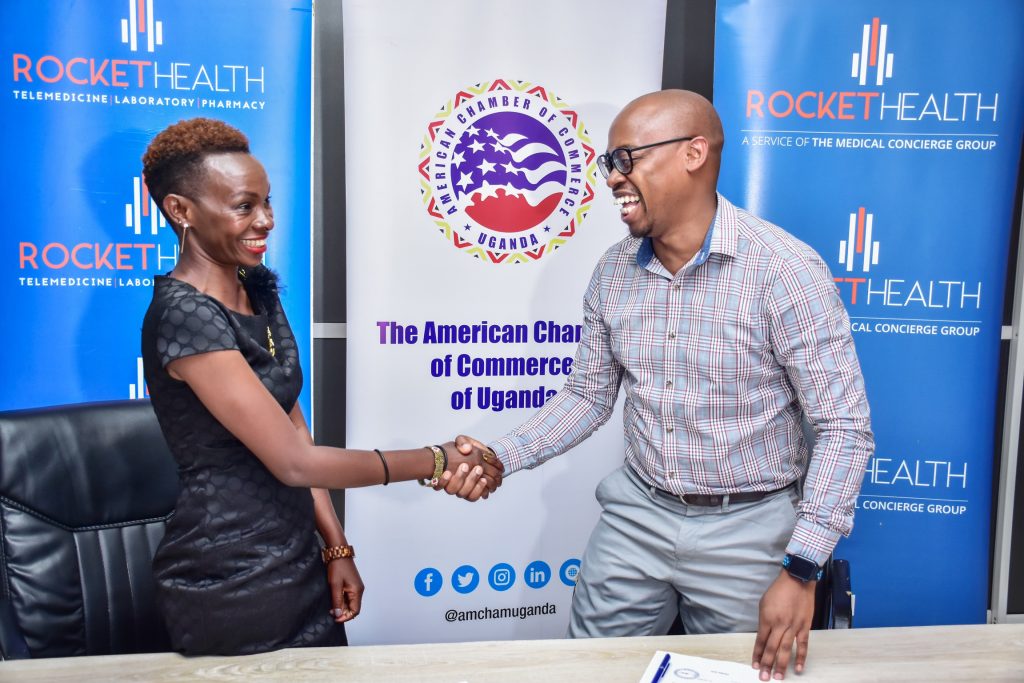 Rocket Health has joined the American Chamber of Commerce in Uganda (Am Cham Uganda), with the objective of harnessing mutual collaborations for the benefit of clients in Uganda and the diaspora.
Rocket Health delivers personalized, affordable, and quality health care through 24/7 doctor teleconsultations, pharmacy deliveries, lab sample pick-ups and tests, appointment-centered clinics and healthcare plans across Africa.
The American Chamber of Commerce of Uganda fosters a greater cultural understanding, cooperation, and dialogue between Ugandan and American business organizations and professionals to promote strong commercial, economic, and trade ties as well as promote investments in Uganda.
While speaking at the presser, Eve Zalwango, the General Manager of AmCham highlighted the benefits that Rocket Health and its clients can expect from this partnership.
"The chamber does business policy advocacy for its members and Rocket Health can collaborate with other healthcare organisations in our network to address issues regulation, taxation and intellectual property," She said. 
Rocket Health, which is expanding geographically across Uganda and into Kenya, also recently registered in the United States as Rocket Health Africa.
Also speaking was Dr. Davis Musinguzi, Chief Executive Officer, Rocket Health who said that, 
"Healthcare is a global priority and Rocket Health is delivering on this locally. We are excited to collaborate with US companies to bring the Ugandans the required resources, quality, and products as well as serve Ugandans in the diaspora."
Rocket Health will this month open a new hub in Gayaza, that will serve clients with a clinic, pharmacy, laboratory, and vaccination services.
If you're looking for coverage that works with your lifestyle, helps you get the best care possible, and fits with your financial picture, think of Rocket Health.
Rocket Health has services like Remote Doctor Consultations; Laboratory; Pharmacy; Clinic; Vaccination Services; Wellness Test; Chronic Care Management; Advantage Healthcare Plans; Rocket Health e-Shop; and Insurance.
The U.S Ambassador to Uganda had this to say about the collaboration between Rocket Health and AmCham Uganda, "Happy to extend our warm welcome to the newest AmCham members! Together with AmCham, we support American companies in Uganda. They bring quality jobs, value addition, & transparency that supports Uganda's economic development and prosperity!"
AmCham Uganda is bringing together a community of USA brands and businesses, US citizens participating in community development in Uganda, and Ugandan-based businesses wanting to do business with the USA in a platform for sharing business, new investment opportunities, and cross-cultural exchange.
Lets Grow Business UG